Chapter 9 bankruptcy was put in place in order to provide protection from creditors for municipalities that have financial problems.  Municipalities that are readjusting their debts need protection from creditors, just like the average person does.  Chapter 9 bankruptcy provides the refinancing of debt, the reduction of interest or principal, and the extension of debt maturities for municipalities.  Chapter 9 differs from other types of bankruptcy because the municipality doesn't have to liquidate its assets in order to pay back the creditors.  In addition, the bankruptcy court is much less involved in a Chapter 9 bankruptcy than in other types of bankruptcy.  The bankruptcy court only oversees the petition, approves a debt readjustment plan, and makes sure that the plan is implemented.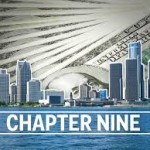 In order to be eligible for Chapter 9 bankruptcy, you have to be a municipality.  Municipalities alone are allowed to file for Chapter 9 bankruptcy.  The Bankruptcy code defines municipality as a  "political subdivision or public agency or instrumentality of a State." 11 U.S.C. § 101(40).  This includes:
Counties

Cities

Townships

Public improvement districts

School districts

Revenue-producing bodies such as highway, bridge, and gas authorities
Other requirements include:
Insolvency of the municipality

An effective debt readjustment plan created by the municipality

Authorization by state law for the municipality to be considered a debtor
In addition, the municipality has to obtain the agreement of the creditors to file for Chapter 9 bankruptcy.  If an agreement cannot be reached, the municipality has to prove that it attempted to obtain this agreement, was unable to negotiate with the creditors, or believes that the creditors could attempt to obtain a preference.
If you are a municipality in financial distress, you should consider filing for Chapter 9 bankruptcy.  Although considerably rare, the Chapter 9 bankruptcy is a good option if you meet the criteria of those that it is meant to help.  If you are interested in learning more about Chapter 9 bankruptcy or bankruptcy in general, please contact Attorney Theresa Rose DeGray here.