Love happens year-round, not only on Valentine's Day. Unfortunately, romance scams are the same. So, along with sharing (or not) some chocolate, make Valentine's Day a time to share with people you care about some ways to spot and avoid romance scams. Because, according to a new FTC report, people sent $547 million to online romance scammers last year.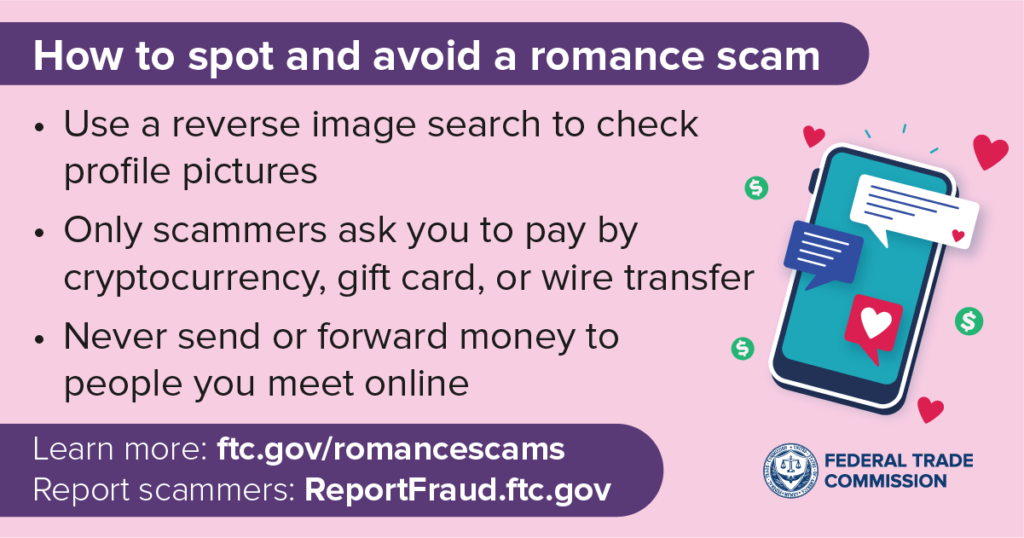 While many of the people who told the FTC they were defrauded said they were contacted on a dating app, romance scammers found them on social media, too. In fact, more than a third of the people who lost money to an online romance scam said the contact started on Facebook or Instagram, often through an unexpected private message.
Romance scammers typically spin complicated stories to convince people to send money. In 2021, people reported scammers asking them to send money for one (imaginary) health or financial crises after another. Other scammers pretended to be successful cryptocurrency investors and used romance to lure people into sending money for bogus investments.
Scammers ask to get paid in ways that let them get money quickly and anonymously. In 2021, about one in four people used a gift card to send money to a romance scammer. The most money was reported lost — $139 million — through payments made in cryptocurrency.
How can you avoid a romance scam?
If someone appears on your social media and rushes you to start a friendship or romance, slow down.
Don't send a reload, prepaid, or gift card; don't wire money; and don't send cryptocurrency to someone you met online.
If you suspect a romance scam, cut off contact. Tell the online app or social media platform right away, and then tell the FTC at ReportFraud.ftc.gov.