Samuel Huntington (July 16, 1731 – January 5, 1796)
Who was the man that some consider to be the first president of the United States?
Samuel Huntington was born into a family of ten children. Three of his brothers were sent to study theology at Yale, but Samuel's parents decided that his education would be of a different kind. They apprenticed Samuel to become a cooper and enlisted his help in running the family farm. However, a farmer was not what Samuel wanted to be. At age twenty-two, he left the family farm in pursuit of bigger dreams.
Intent on becoming a lawyer, Samuel decided to teach himself all that he would need to know. Samuel read the books contained in the personal library of Scotland's local minister, Ebenezer Devotion. After studying law books from the collections of other friends in Windham, Samuel passed the bar. He was admitted to practice in March of 1754.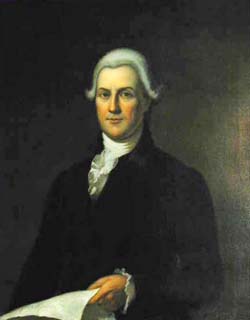 By 1761 Samuel had fallen in love and married Martha Devotion, daughter of Ebenezer Devotion. Then, in 1765 Samuel made a great leap in his legal career. He was appointed to the position of King's attorney for the colony of Connecticut. Nine years later, Samuel's conscience made him resign from this post and turn his back on what might have been a bright and comfortable future in the employment of the King.
Instead, Samuel Huntington became a patriot and dedicated the rest of his life to serving the public. In 1775 he was chosen to serve as a delegate to the Continental Congress where he represented Connecticut when Congress convened in January of 1776. On July 4, 1776, Samuel Huntington signed the Declaration of Independence
casting his lot with the other fifty-five signers.
On September 28, 1779, Samuel Huntington was elected 6th president of Congress and began serving his term. During that term, on March 1, 1781, the Articles of Confederation
became operative as the first Constitution of the United States. The first section of the Articles of Confederation designates our nation as the United States for the first time. Some argue that this makes Samuel Huntington the first president of the United States.
Samuel Huntington continued his public service by becoming chief justice of the Supreme Court in 1784. In 1786 he became the 18th governor of Connecticut and would hold that office until his death almost ten years later. Samuel Huntington died in his 64th year and was laid to rest in Norwichtown. The man who started life as a farm boy kept some traits throughout his life that served him well; he was reputed to be a practical man of few words who wrote in a simple style. His quiet leadership and full commitment to the American Revolution won him the respect of all.
_________________________
Sources of information:
George Kelsey Dreher, Samuel Huntington, President of Congress Longer Than Expected: A Narrative Essay on the Letters of Samuel Huntington, 1779-1781 (1995)
John and Katherine Bakeless, Signers of the Declaration (1969)
For more information:
Pamphlet "Samuel Huntington" published by Governor Samuel Huntington Trust
Noreen Gillespie, Washington vs. Huntington, Waterbury Republican, January 27, 2004 p. 3A
Bill Stanley, The First President of the U.S. Lived in Norwich, And It's Not Who You Think, The Day, January 5, 2003 p. D4
Doses of Connecticut Legal History
SOURCE: CT Judicial Branch