Judge Swift has been praised as one of the greatest early American jurists by Wesley W. Horton in his book, The Connecticut State Constitution. Swift studied at Yale before entering the practice of law, and represented the town of Windham in the General Assembly of Connecticut. He was elected to the U.S. Congress where he served from 1787 to 1793. A brief paragraph in the Biographical Directory of the United States Congress states he "also engaged in literary pursuits."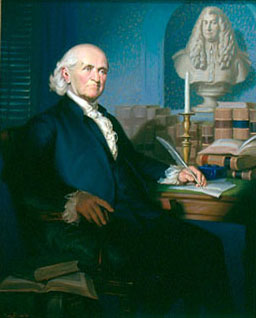 More specifically, Swift wrote the first legal treatise published in America. This work, A System of the Laws of the State of Connecticut, published in 1795, presents Swift's observations on government, the constitution of the state, and differences between English and American common law. In 1810, Swift published the first treatise on the law of evidence.
Appointed a judge of the Superior Court in 1801, Swift rose to the position of Chief Judge in 1815. Judge Swift sometimes generated controversy as in Lung's Case, 1 Conn. 428 (1815). Peter Lung was convicted of murder and sentenced to death, with Swift as one of the three presiding judges. Lung appealed to the State Legislature and, citing irregularities in the grand jury proceedings, the Assembly ordered a new trial. Judge Swift published a pamphlet criticizing the action stating in part, "…the legislature should never encroach on the judiciary…"
With the adoption of the Connecticut Constitution of 1818, Judge Swift lost his position on the bench, and returned to Windham to represent the town once again in the General Assembly. During this time, he completed his best known work, A Digest of the Laws of the State of Connecticut. Swift's digest and his judicial opinions are still cited today.
For further discussions of Judge Zephaniah Swift and the legal developments of the time, see 19 Conn. Bar J. 181, and 27 Conn. Bar J. 419.
Doses of Connecticut Legal History
SOURCE: CT Judicial Branch