Ephraim Kirby (1757-1804) is best remembered for compiling the first volume of law reports published in the United States.  However, Kirby was much more – farmer, soldier, attorney, state legislator, candidate for Governor, and Judge of Mississippi Territory, now known as Alabama.  He served in the Connecticut legislature, and was appointed by President Thomas Jefferson to the position of supervisor of the National Revenue for the State of Connecticut. Kirby also helped organize the Connecticut Land Company and later was appointed to settle disputed land claims in Mississippi Territory. He died of yellow fever at age 47 at Fort Stoddert, before learning that President Jefferson had appointed him Governor of the Mississippi Territory.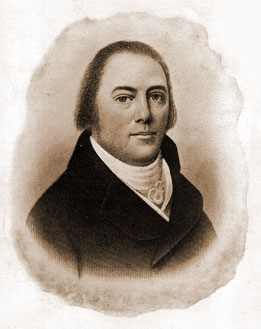 Judge Kirby served in the Revolutionary War, volunteering just after the Battle of Lexington. He was present at numerous battles from Bunker Hill to Germantown. After the war, Kirby studied law at Yale and was admitted to the bar where he practiced in Litchfield, Connecticut. Following American independence, the need for a written record of court decisions developed in order to distinguish American common law from English common law. When the Connecticut legislature passed a law in 1785 requiring judges to prepare their decisions in writing, Kirby had already begun his own compilation for private use. He was persuaded to expand his task for publication, and so, Kirby's Reports were born.
Published in 1789, Kirby's Reports or Reports of Cases Adjudged in the Superior Court of the State of Connecticut, from the year 1785, to May, 1788, with some Determinations in the Supreme Court of Errors is a fascinating record of the legal history of Connecticut's courts. Kirby wrote in his preface, "I have avoided technical terms and phrases as much as possible, that it might be intelligible to all classes of men." Many years later in 1933, Kirby's Reports Volume II was published. Volume II, which contains 30 additional cases from 1785-1789, was discovered in Kirby's law library.
Ephraim Kirby has the distinction of being the first Superior Court judge in what is now Alabama and is so honored in the archives of the state. Kirby's correspondence with President Jefferson can be read in the Thomas Jefferson Papers from the Manuscript Division at the Library of Congress.
For other reading about the early Connecticut Reports, see 70 Conn. Bar J. 407.
Doses of Connecticut Legal History
SOURCE: CT Judicial Branch