In 1839, long before the Civil Rights movement of the 20th century, a group of kidnapped African natives bound for the Cuban slave trade revolted aboard their ship, La Amistad. While attempting to sail back to Africa, the men were captured off Long Island and taken to New Haven, Connecticut. What followed, beginning in Connecticut, was a complicated trail through federal courts, which introduced debates on the issues of human rights versus property rights. The question of slavery was yet to be decided by a civil war, and substantive civil rights legislation would not become a reality for over one hundred years. Today, the Amistad Memorial sits in front of New Haven City Hall, "as an inspiration and reminder of a significant historical chapter which culminated triumphantly in the shoreline city of New Haven, Connecticut".
See: Gedney v. L'Amistad, 10 Federal Cases 141 (District court, District of Connecticut, January 7, 1840)
The Amistad, 40 U.S. 518, 15 Peters 518, 10 L.Ed. 826 (January Term, 1841)
Avalon Project at Yale: Argument of John Quincy Adams (1841); Argument of Roger S. Baldwin (1841)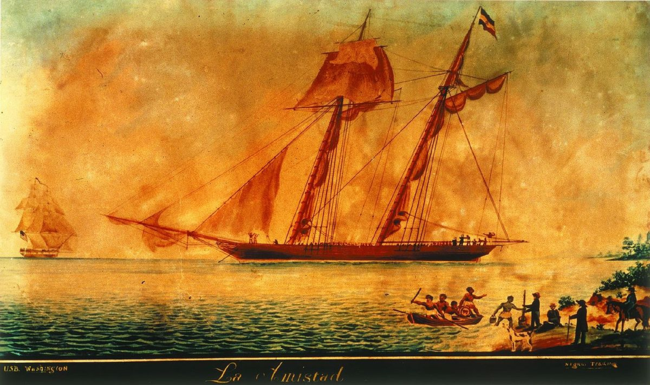 Also in New Haven, a little known civil rights case was decided in Superior Court in 1939. The case centered on the claim of overcharging based on racial bias. The Plaintiff in the case, John M. Ross, claimed discrimination in treatment, in violation of Connecticut statute. At the time, Connecticut law created a cause of action "in favor of persons deprived, on account of alienage, race or color, of the full and equal enjoyment of privileges of places of public accommodation, or discriminated against, on that account, in the price of the enjoyment of such privileges." Section 5985 of the General Statutes (Revision of 1930), repealed 1967. The action was, one senses, pursued out of principle rather than for the damages awarded ($.80). The memorandum also details some interesting technical history of civil rights laws in Connecticut. Of further interest is the fact that counsel for the plaintiff, Attorney Harry Watstein, later in his career served for a period of ten years as Librarian at the New Haven County Law Library.
See: Ross v. Schade, 7 Conn. Supp. 443
In more recent times, the issue of school segregation was brought to Connecticut courts in 1989 when elementary school student Milo Sheff, along with ten other families, filed a lawsuit against then-Governor William A. O'Neill, alleging racial, ethnic and economic isolation in the Hartford public school system. In 1996 the State Supreme Court issued a ruling in favor of the plaintiffs; "We hold today that the needy schoolchildren of Hartford have waited long enough. The constitutional imperatives contained in article eighth, § 1, and article first, §§ 1 and 20, of our State Constitution entitle the plaintiffs to relief" Sheff v. O'Neill (1996). After the ruling, the plaintiffs in this case were disappointed in the progress of the State's plans to reduce desegregation and later filed a proposal which resulted in a legal settlement. A multi-year plan was put in place with specific strategies for reducing economic, racial, and ethnic isolation for students in the Hartford public schools. The plaintiffs in this case continue to advocate for the children of Hartford.
See: Sheff v. O'Neill, 238 Conn. 1
Doses of Connecticut Legal History
SOURCE: CT Judicial Branch